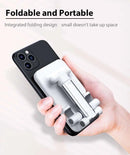 Description
You can easily check your messages while working, you can watch teaching videos and learn to make cakes with this mobile phone holder. When you have a live broadcast, this stand is also your good helper, even when you go out or travel, No parts, No installation
This Mobile Phone holder has a support rod and weighted base make this stand more stable and not easy to fall. Foldable design makes this Desktop stand more portable. Most important of all is this design can greatly reduce the shoulder and neck pain caused by long-term head bowed.
Both the base and the head of the bracket are provided with silica gel cushions to better prevent sliding and falling off of the mobile phone
A humanized charging port is reserved, so there is no need to worry about charging during the use, It should be noted that the maximum thickness of mobile phone and mobile phone shell should not over 6mm. This mobile stand can be used for online classes.